RETURN TO BLOG HOME
During the shut down, there were many of us who were dealing with grey new growth!  Was there a moment when you  thought, 'Okay this grey is beautiful, is it time for me to embrace it?'. If you have been wondering about the process it takes to go grey beautifully, than this blog is for you.
To share the process with you, we spoke with Neill Style Squad and Utica Square stylist Cooper, who's been turning out some gorgeous greys!
There a couple of different options you can take to tackle going grey. This could take multiple salon visits, depending on how dark your hair is, and what you have been using to cover your grey. All options will be most successful using the toner I mixed with Aveda's demi+ line to create a silver formula with blue or violet base.
Option one: For those who are currently blonde, a toner can be applied to reduce the warmth out of the blonde. It might look a little tinted at first but should fade after a wash or two. Until the natural grey has fully grown out, the silver formula may need refreshing every 6-8 weeks.
---
Option two: Heavy foiling through the hair over several visits, and lifting the hair enough to have the toner pop.
---
Option three: Enhance your natural grey by adding in silver highlights. This will help break up the new growth line and provide an 'intentional look" to your grey.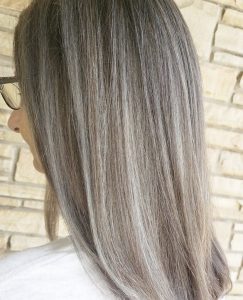 Cooper, thank you for sharing! Now it's in your hands; Will you be embracing your greys?